CONTACT US:
4010 W. Douglas Ave.
Milwaukee, WI 53209
PHONE (414) 578-8615
E MAIL:
info@sterntanning.com

Drum Heads for Percussion Instruments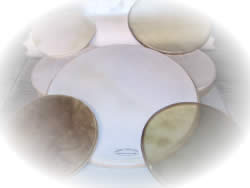 Stern Tanning Co., Inc. has acquired the process and equipment formerly utilized by UNITED RAWHIDE of Chicago. We have modernized and improved on the traditional techniques and equipment in order to offer the highest grade premium calf heads. We guarantee uniform thickness and a quality finish (precision machine sanded and buffed) that rivals the finest heads. Custom sizes, thicknesses, untucked or tucked on metal or wood flesh hoops.
Snare Drum Heads (white or translucent)
Bass Drum Heads
Timpani Drum Heads
Tambourine Heads
Bongo and Conga Drum Heads
Taiko Drum Heads
Bodhran Drum Heads