CONTACT US:
4010 W. Douglas Ave.
Milwaukee, WI 53209
PHONE (414) 578-8615
E MAIL:
info@sterntanning.com

Custom Tanning of Lambskin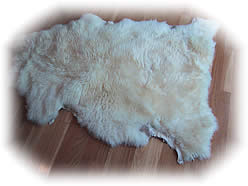 Stern Tanning Co. has been in the lambskin tanning business for over sixty years. We have the technology and equipment to produce a premium quality lambskin that can be used as a throw or garment.
Our ELECTRIFING PROCESS leaves the wool soft and shiny.
Hides are CHROMED TANNED allowing the hide to stand up to perspiration and water. The leather is soft and supple, with a suede finish.