CONTACT US:
4010 W. Douglas Ave.
Milwaukee, WI 53209
PHONE (414) 578-8615
E MAIL:
info@sterntanning.com

Custom Tanning of Lambskin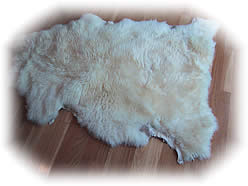 Stern Tanning Co. has been in the lambskin tanning business for over sixty years. We have the technology and equipment to produce a premium quality lambskin that can be used as a throw or garment.
Our tan is WASHABLE and utilizes a chrome/aluminum sulfate combination that provides a soft and supple leather. An alum tan alone will not provide a washable hide or a hide that will stand up to wet conditions over time.
The hides are rinsed a number of times following the tanning process to WASH AWAY ANY RESIDUE and to MAINTAIN THE NATURAL WOOL COLOR.
Our ELECTRIFYING PROCESS leaves the wool soft and shiny.
For those hides where the natural look of the wool fiber is preferred by the customer, we will take additional steps to RECURL THE WOOL in order to maintain that look. If the customer does not specify to recurl, but in our judgement, the natural look of the wool fiber would provide a nicer appearance, we will recurl the wool of those hides also.
We are committed to the PROTECTION OF THE ENVIRONMENT. We have developed programs and procedures to comply with all applicable regulatory requirements and laws. All of our wastewater goes through our pretreatment system, resulting in very clean water flowing to the city. Year after year, Stern Tanning Co. has been included in the Significant Industrial User Honor Roll that has been created by the Milwaukee Metropolitan Sewerage District.